Tags
baby, Children, dad, diaper, Diaper bag, Handbag, Messenger bag, mom, mommy, motherhood, parent, parenting, pregnancy, shopping
I am fascinated with all of the "What's in" posts that have been floating around the internet lately. Being a mom and constantly wondering if I am over-packing, under-packing, packing the correct essentials, plus wondering what products other moms are using and if I ought to give them a try, "What's in My Diaper Bag" posts have been catching my eye lately. This is especially true as I have another child on the way and don't want to be bogged down or be found lacking. The fact that I am also on the market for a new diaper bag is also contributing to this latest search trend.
A few of my favorite "What's in My Diaper Bag" posts include:
My goal is to do a few of my own soon. Honestly, I've been putting it off because of a lack of decorative trays. How silly is that? My favorite posts of this kind have everything beautifully arranged on a decorative tray in the photograph. Unfortunately, each tray that I like comes with a price tag I don't. Lately, I'm considering dropping by the local thrift shop, buying something cheap and modge-podging it with some pretty papers. Soon.
Has anyone done a "What's in My Diaper Bag" post? Please, leave a link in the comments. I'd love to check it out, and I'm sure other readers would, too.
Back to my diaper bag dilemma-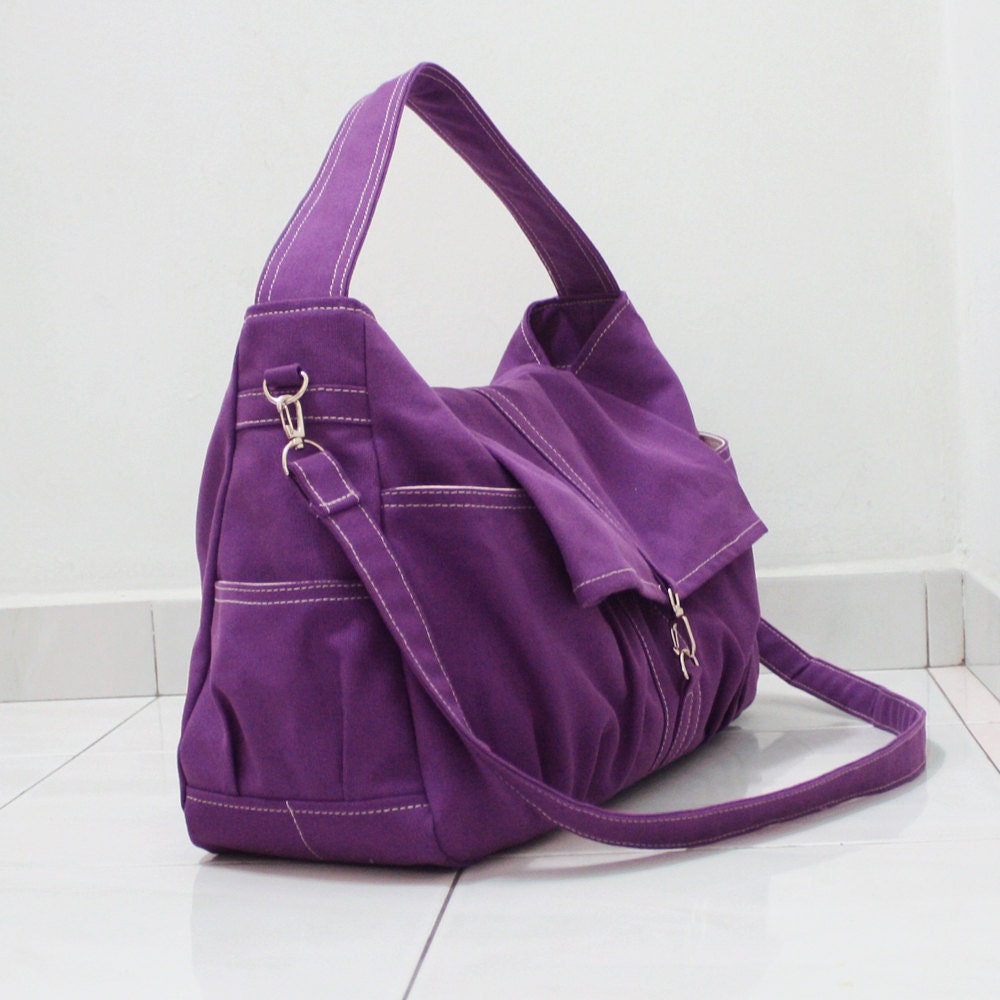 Our current diaper bag (photo above), a great love of my husband, was a wonderful ETSY find. From the shop Kinies, the Kinies Classic comes in a range of colors (ours in the eggplant pictured, has faded to more of a lilac color through 1-1/2 years of daily use), has both a messenger bag-style strap and shoulder bag-style strap, and more pockets than you could know what to do with (pictured below).
It really could be a wonderful bag, however it can be quite bulky and cumbersome. This is particularly true when, as much as I like to be prepared, my husband blows me out of the water in this department. Needless to say, if we are not traveling together I have three options- a) carry a diaper bag that weighs more than the baby, b) empty at least half the contents out of the bag before leaving the house and returning them to the bag upon coming home, c) carry a separate diaper bag.
What I'm looking for in a diaper bag:
Organization- lots of use-able pockets
Size- medium to large handbag size, large enough to carry the essentials without be cumbersome or heavy
Straps- cross-body or handbag options
Style- something that goes with outfits and doesn't scream "DIAPER BAG!!!"
Actually, these are all things that I loved about our current diaper bag. Perhaps I'll consider another bag from the same seller, but I'd like to look into other options.
Does anyone have a diaper bag that they really love? What do you look for in a diaper bag? What do you love about your current diaper bag?